F.A.Q.
Q1: How do I reserve a condo at The Shores of Maui?
There is no front desk or concierge services on property. Most properties are managed by owners, or owners will have a rental management company. Many have vrbo websites, and all you need to do is search the internet.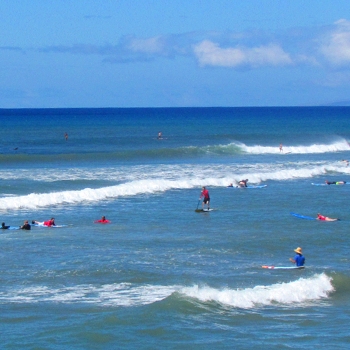 Q2: How do I get to The Shores of Maui from the airport on Maui?
From the airport follow the signs to Kihei. Take Airport Road to Maui Veterans HWY (311). Left turn onto Maui Veterans HWY
(311), follow it south for about 6.5 miles and it becomes Pi'ilani Hwy (31). After about 5 miles and multiple stop lights, turn right at the light at Kanani Road. Make another right at the stop sign and then a quick left downhill towards South Kihei Road. The building is on the corner and the parking is off Kanoe Street just before the corner. You have found our piece of paradise!
Q3: Where do I "check-in" when I arrive at The Shores of Maui?
The person or agency where you rented your unit should provide you with specific instructions on access to your unit, lockbox or access code to the unit, name and other important details of an on island contact, as well as check-in details; they will also provide you with check-out details.
Parking is at the rear of the complex, and does not have designated parking spots, but it is normally not a problem to find something close to the unit you are staying in.
Q4: Is there a gym/fitness center on property?
Other than the tennis court which provides a specific level of activity, there is no gym or fitness on property. There are a few gyms within Kihei and Wailea areas; a google search should help you find one that suits you.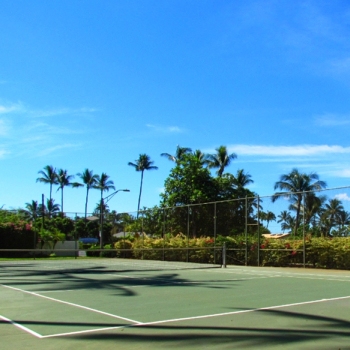 Q5: Is there an office where I can have airline boarding passes or other documents printed?
There is no office on property. Most units have complimentary WiFi, and some units even have a printer, BUT – if you ask around the complex, there is often someone who can help you. Remember, The Shores of Maui is full of the aloha spirit, and owners and guests like to share that with you when they can.
Q6: Is there a laundry facility on property?
Each unit has its own washer and dryer in the condo. Normally helpful operating instructions will be on these appliances, and most manufacturers recommend the use of HE detergent. We recommend the use of HE laundry detergent, as it is better for the environment and kinder to the washing machine.
Q7: How many vehicles can I have and where do I park?
The Shores of Maui guidelines allow for one vehicle per condo unit overnight and the parking lot is at the rear of the building off Kanoe Street. Normally it is very easy to find a parking stall close to your unit. If you have guests visiting and there is space available – great, otherwise on-street parking can be utilized on Kanoe Street. All parking stalls are on a first come first serve basis. Please use the parking pass provided by your rental agent when parking at the Shores of Maui.
Q8: Where can I get groceries while I'm staying at The Shores of Maui?
Foodland is within a 5 minute walk from the complex and will have most of your needs. Further north on South Kihei Road is Times Market and Safeway is further down. There are also some markets and craft fairs on Maui – either in Kihei or over in Kahului. Ask a resident owner in The Shores, and they will be happy to answer your questions.